In Spring of 2020 I was to design the set for our middle school musical - Annie. Of course, COVID19 stopped that in its tracks. We were about two weeks into rehearsals and I was zero weeks into design collaboration with the director, costumer and stage manager. However, as it was part of an independent study in theater design for middle school, I still created several elements. In fact, it was a bit liberating to envision what could be without constraints. For example, here is a poster I designed *without* the rules set by MTI, the theater program rental agency:
Here are some sketches of five of the characters for costume considerations. One unmentioned backstory I developed was that the orphans have a token economy within the orphanage, consisting of buttons—found and stolen. Annie would have the most, subtly conveying her power within the orphanage. Ms. Hannigan would either have none, or if we could convey that her clothing had missing (stolen!) buttons somehow. Warbucks and his help could have dazzling buttons, and perhaps Annie could subtly be enchanted by that fact with additional choreography. Pugh could rip one off her cook's uniform and hand it over, etc.
Designing for the stage in 4x8' flats, this is a potential layout for the orphanage and office scenes. These scenes have several moments of interaction, and so must convey to the audience a sense of connection and interplay. My idea—never tested on the Mabel Tainter Stage—was to add a movable wall set at 90 degrees to the audience as a separator. The wall could swing more open to reveal the current scene, with characters freezing in place and lights dimmed on the opposing scene. This would also involve more students in the moving and choreography of the action. The asymmetry helps remind us of the distress in Annie's life.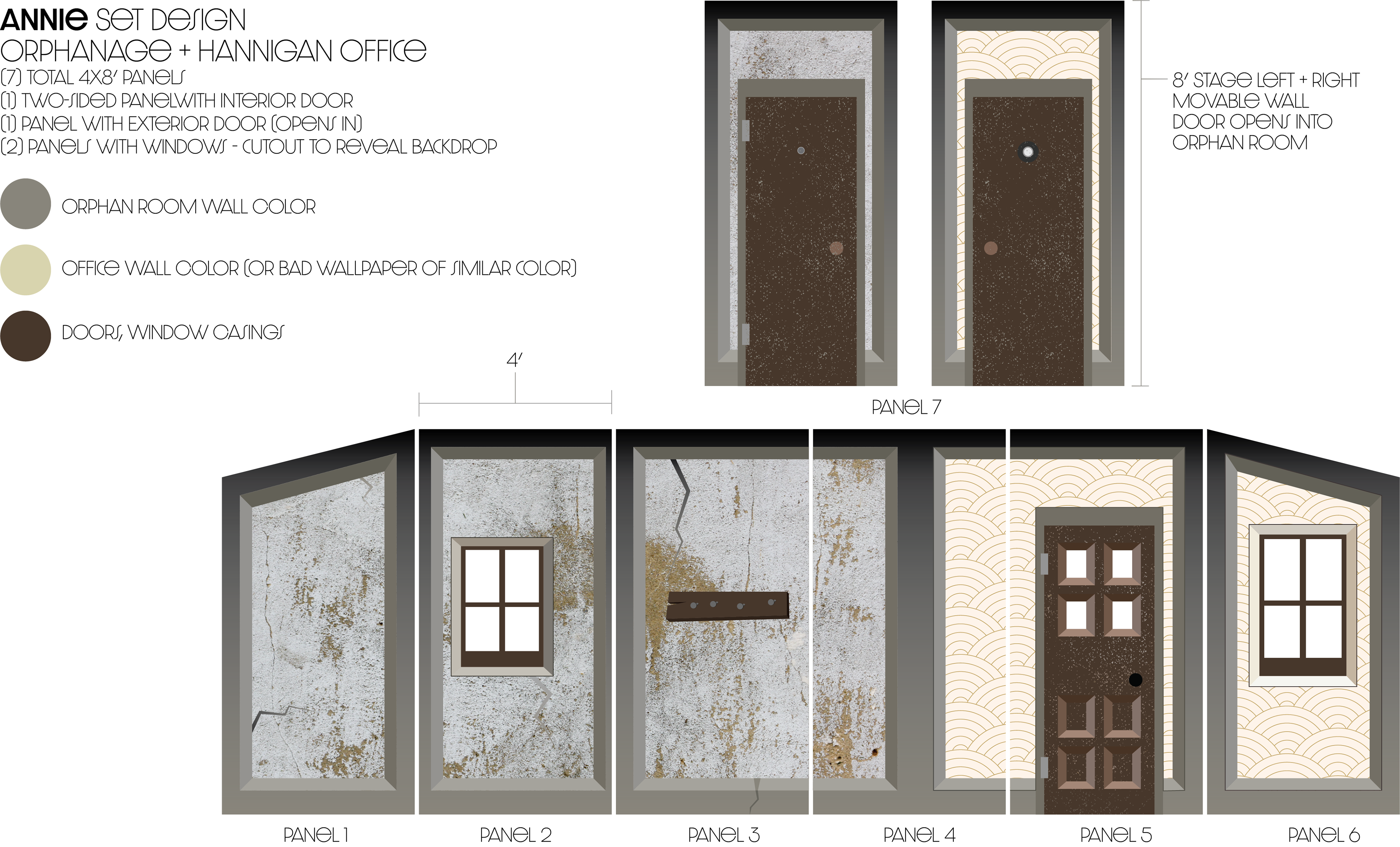 A ground plan of the scene, giving more sense of how it could work, set on the dimensions of the Mabel Tainter Stage in Menomonie. Beds and office furniture play heavily into blocking and choreography:
I brought some elements into Adobe After Effects to see some 3D renderings of backdrops and potential lighting. (Motion begins at 0:07)
Construction of the flats:
Another scene, that of the Warbucks Penthouse. My idea was that the NYC skyline backdrop could lower, giving the sense of his home being higher in the city compared to the orphanage. His space is also symmetrical, implying wholeness for Annie. Rich greens and golds help solidify our sense of his wealth and power. Stairs would allow for more full choreography, and there is an important scene in which Annie discovers the joys of the home and the help.